Membership
New members
Please contact us for more information and to get started with our online membership application
office@mishkon.org
310-392-3029, ext 2.
General questions
office@mishkon.org
310-392-3029, ext 2.
Members must be logged in to access the membership renewal page
If you are new to our synagogue or returning after being away for a bit please use this form.
A letter from Andy Bender, Board Vice President and Membership Chair
Greetings!
Summer is here, and at Mishkon that means it's time for membership renewals. As membership chair, I thank you for being a member and ask you to renew for 5784.
I'm so proud of all that Mishkon has accomplished after a long, pandemic-induced lull. Just some examples:
Our marvelous Rabbi Joshua Katzan, an inspirational leader and teacher, and a genuine mensch.
Our growing and thriving preschool, and the meaningful, individualized programs of our religious school.
New initiatives like Shabbat @Home and the Mishkon Culture Club, bringing members together to break bread, explore L.A. (from museum exhibits to beach cleanups and comedy nights), and build relationships.
The return of in-person Kabbalat Shabbat services in our sanctuary, with special musical guests, and at the beach.
Multiple improvements to our buildings, from retrofitting to painting.
Newly reconfigured interior spaces enabling community events, from kiddush lunches to neighborhood council meetings and art openings.
Streamlined procedures, starting with our newly redesigned and optimized website.
These accomplishments join the things that have always made Mishkon Mishkon: spiritual Shabbat morning services, uplifting High Holy Days services, and holiday celebrations throughout the year; thought-provoking speakers; educational programs for kids and adults; commitment to tikkun olam; and, most important, a place to belong. Whether your goal is to contemplate, celebrate, or congregate, Mishkon remains a creative, safe, and heimish home.
Your membership makes all this possible.
Dues have not increased for the last three years, nor will they this year. But for those willing to invest a little more than the Standard Membership, the Chai Momentum Builder membership category goes a long way to help. Whatever membership category you choose, an installment plan makes payment easy.
A note about the building and security assessments, part of our dues structure. These fund essential restoration, repairs, and improvements to our 75-year-old landmark campus, to keep up with the times and secure our future. We thank you for including these assessments with your dues payment.
As Mishkon enters its 106th year, think of how the shul's presence has enriched all our lives — and how much more there is to gain. When Mishkon thrives, we all thrive. Please take part and renew today.
If you have questions or comments, please don't hesitate to contact me by email: andy@andrewbender.com.
Warmly,
Andy Bender
Board Vice President and Membership Chair
"Sow your seed in the morning, and don't hold back your hand in the evening." – Ecclesiastes 11:6
Membership Options and Pricing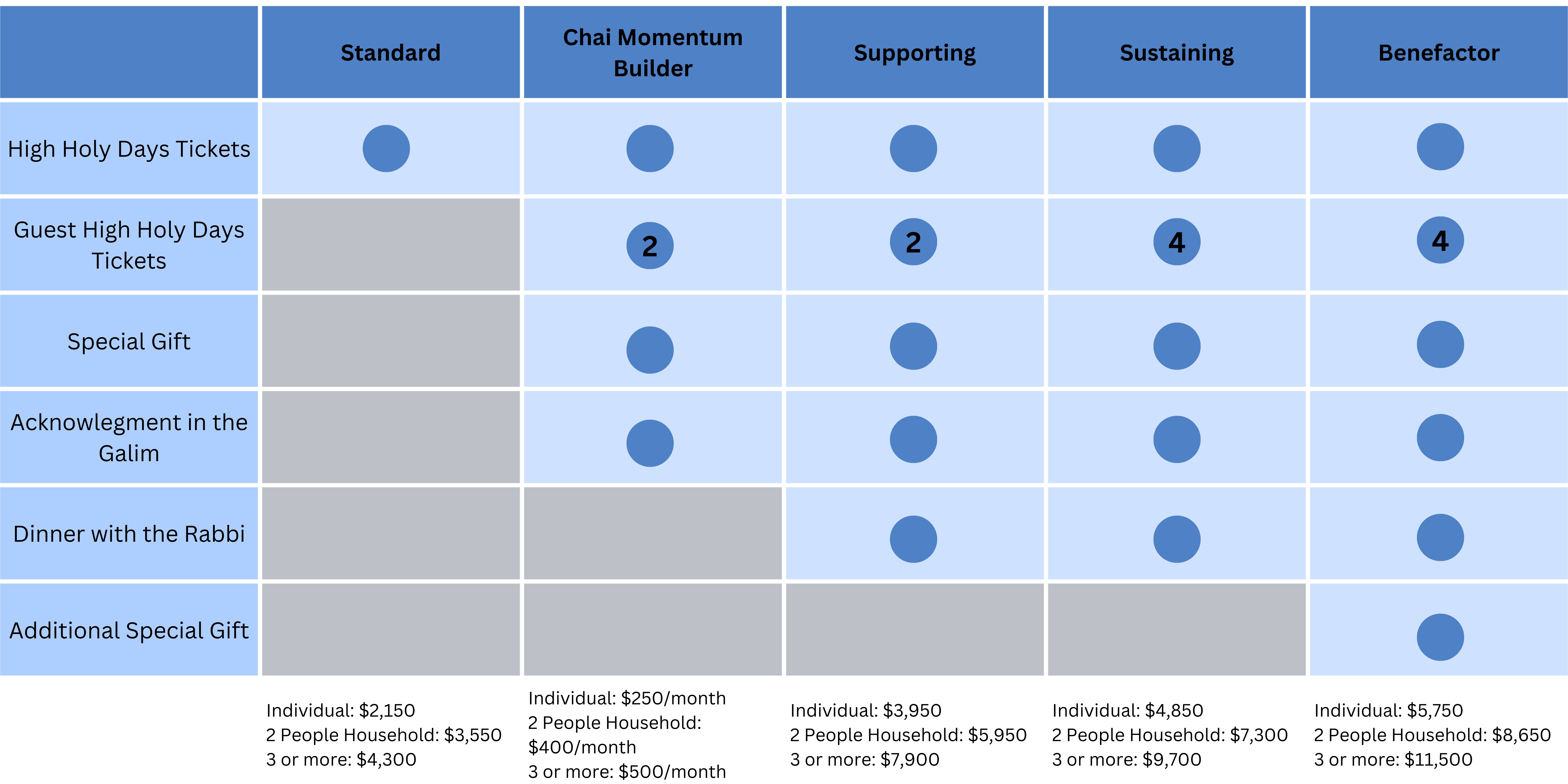 Yearly building assessment fee of $200 (individual) or $300 (2-person household or 3 or more) and security assessment fee of $150 (individual) or $250 (2-person household or 3 or more)
Assistance
No one will be denied membership because of financial issues. If you are in need of dues consideration, please contact our Executive Director at executive@mishkon.org. Mishkon Tephilo welcomes interfaith families.
Tue, September 26 2023 11 Tishrei 5784